09-28-2008, 05:19 PM
GALVY
Senior Member


Posts: 349
Joined: Aug 2008
Reputation: 0

Re: "The Long Road" Chapter one- The Breakthrough
---
galvanize stepped back into the shadows and let RAMP-X pass by. though galvanize didnt feel emotions as warmly as some other colonists he was genuinly excited.
one-sixteens tales of the old ways had intrigued his spark. and now was the time he decided, to make a choice,just for galvanize alone. "do i go in ?" he said quietly.

galvanize looked up and down the dark narrow passageway that would lead him to the bar.
"wont hurt to listen i suppose" he said and began to walk to the bar, keeping his optics peeled for any unwanted attention.
---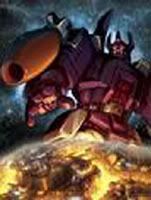 IM NOT MAD, IM LOVEABLE!!

User(s) browsing this thread:
1 Guest(s)
Return to Top
Return to Content