09-29-2008, 08:15 PM
GALVY
Senior Member


Posts: 349
Joined: Aug 2008
Reputation: 0

Re: "The Long Road" Chapter one- The Breakthrough
---
"well,my designation is galvanize"
"im a rescue bot at heart but my alternate form can be helpfull in mining ,but , alas ,not on this world. my particle drill form is afected by a substance in the ore here and can be , well, explosive. "
"after listening to 1-16s ,ahem, plans, ive decided to help out where i can. if you all pull the same way im sure what he has planned will work without a hitch. and i for one want to get the hell away from here, this place is the pits"
galvanize wandered over to a darkened corner of the room and sat down amongst some vapour packs, pleased that he got to speak first.
---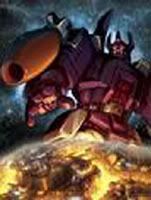 IM NOT MAD, IM LOVEABLE!!

User(s) browsing this thread:
1 Guest(s)
Return to Top
Return to Content