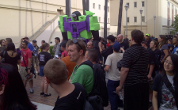 TFNation have announced their latest guest for TFNation 2023 next August as Steve White! You can read the full press release below.
TFNation is honoured to announce that Steve White, one of the forces behind Titan UK's Transformers Magazine, and colourist from the Marvel UK era, will be joining us in the summer of 2023!
White is an editor and colourist in his most prominent roles, and Transformers Magazine (the whole seven year run) aside, he was the colourist for the first appearance of Death's Head back in Transformers (UK) #113-114 and several issues since.
Older readers may also know him from the 1990s Rogue Trooper series from 2000AD, and the curation of the collected volumes of paleoart, Dinosaur Art, Dinosaur Art II and Mesozoic Art(Titan Books).
Steve White will be joining us for TFNation 2023, ready to tell all about gritty post-apocalyptic futures and lush dino-utopias. Stay tuned for more details on the TFNation website -- where All Are One!