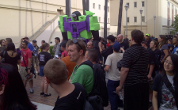 Following on from Auto Assembly 2005 yesterday here's a very short, extremely low quality, 240p is the best it can do, brief video from Transforce 2004 which was the Transformers convention that took place in Mitcham Leisure Centre in August 2004.
The video is just over a minute & was taken when I "walked the queue" prior to doors opening.
It was the 1st Transforce for 2 years & 2nd most attendee European Transformers convention at the time (329). Transforce '02 (400attendees) and jAuto Assembly 2004 (320 attendees).
Simon Furman, Andrew Wildman and Geoff Anderson were all guests, for the event but unknown to most attendees Anne Bryant, who was in the UK at the time, attendee as a walk-in attendee to get see what was happening.
We bought normal tickets for the day but ended up arriving early to help out
The Spacebridge Store
with set-up which allowed me to record part of the setup in the hall. It was our first event attending as helpers which we continue doing to this day at
TFNation
.