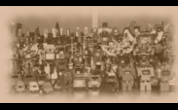 We forgot all about this. The below is from
FantoFan
Latest issue of HyperHobby contained basically the same toys news previously reported, however they have some addtional updates.
1. Previously we reported that Kicker, the action figure from the Anniversary set (with STD Grand Convoy) will have some color different from the single pack version, Hyper Hobby has reported that the Anniversary set version will have Chrome parts for the chest plate and helmet, including the Energon saber and Destron Sword. This set will include a pin-up and should be out in stores on 25 Mar.
2. Some more combinations shots of Superlink ability by the Autobots. As there are currently 7 Superlink figures slated to be or have been released in Japan, you can have 49 different combinations if you collect them all (2 each).
3. HyperHobby clarified that the orange clear weapons of Command Jaguar Desert Type will be change to clear yellow.
4. Other TF related news include somemore detail shots of the upcoming Binaltech Hound and Binaltech Streak, USA edtition Energon Ultra Magnus, previously reported Double Convoy campaign and the store exclusive energy weapons. Both TV-Magazine and TV-Boy featured a new ad on new Superlink toys, Rodimus Convoy, Red Alert, Signal Flare and Kicker. Single packed version seems to come with Energon Saber only.