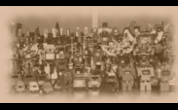 I"m still waiting to hear back from e-Hobby regarding my order of Mini-bot Go-Bots, Worlds Smallest 2 and Mega SCF Battle Damage Convoy.
Category: Older News | Submitted by: Moonbug - on:
Tuesday, 30th March 2004 at 20:02:42 BST

| Share:






| Discuss: Read on
Why not share your thoughts on this article by granting it a rating out of 5 stars. You can edit your rating at any time by re-visiting this page and re-rating the content or, if you are a site member, through your control panel.