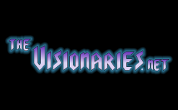 Hi everyone, as you may or may not not, my brother and I have been slowly revamping our Visionaries website in preparation for a big relaunch. The project has been heavily delayed due to work commitments but it is starting to come together now as we start to put together the articles and reviews to go with the images and information we've been amazing over the last 14 years.
Yesterday we decided to pushed live the images which accompany a review that we published on the 1st Feb 2015 which covers the Season 2 character Kabor. This is the first gallery to contain images of some of our resin 2-up hardcopies of the Season 2 characters weapons.
We'll be adding the other characters over time along with more in-depth articles covering the brand from its inception through to the modern era. We've already published our article on "Visionaries: Reborn" along with the toy ads but there is a lot more to come which will include plenty of things you have not seen before. But that is for another day.
When looking at the images in the gallery you will notice that Kabor was originally going to be called "Cliffdweller" and that rather than coming with an axe, as he is shown in the Toy Fair photographs, it was originally planned for him to come with a gun. The change over to the axe was late in production as now only was the gun sculpted, the 2-up is included in the gallery, but the Neal Adams artwork was converted into the final box art. We have included a copy of that artwork as well though we hope to re-scan it again at some point in the future.
We are still investigating when and why the change was introduced. The axe does suit the character better in our opinion, and the gun does look a little odd, but we hope to be able to confirm the reasons.
I thought I would share it here as I know some members also like the Visionaries brand so I thought you may be interested in seeing more about the "lost" series.
You can find the review and image gallery at Darkling Lords Kabor Toy Review