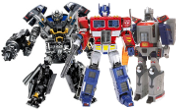 Chinese Transformers Fansite T.F.N.D have posted in-hand images of the upcoming Transformers Combiner Wars Streetwise figure. The toy is a slight retooling of the Combiner Wars Wave 2 Stunticon Dead End figure.
Takara Tomy have announced a new campaign which they will be running which includes some Generation One Collectible Cards.
78dm.net have posted some images of the upcoming 3rd party Overclocking figure from SXS. The figure is a homage to Blurr from the Generation One toyline.
Amazon.com have posted new pre-orders for Wave 3 of the Transformers Combiner Wars figures including Hotspot
Ozformers have confirmed that both MP-06 Bluestreak and MP-24 Star Saber will both be released within Australia
Mitmunk is releasing a new line of Official Transformers Apparels.
"Autobots, roll out! Mitmunk is excited to bring you our new line of official TRANSFORMERS printed apparel. We're launching our new women's and men's long-sleeved shirts, vests, and leggings based on the Generation 1 Optimus and Megatron artwork. There will also be T-shirts featuring a range of Transformers from the original box art, quotes, and of course the iconic Autobot and Decepticon insignias.

Pre-order from our website starting Thursday, April 9 at 7:00 am Pacific Time to get in on the first print run. We'll accept pre-orders until we reach the limit of what we can handle in one production run, or while supplies last, and go into production until we're ready to accept the second round. The first 20 pre-orders will also come with a free t-shirt! The estimated completion time for the first print run is mid- to late-May (subject to change but we'll update you along the way).

If you're headed to Fan Expo Vancouver this weekend, you'll be able to shop our new Transformers line first! Come visit us at Booth 714, April 3-5 at Vancouver Convention Centre."
Georgia Ball has been announced as the new regular writter on the IDW comic Transformers: Robots In Disguise (the tie-in book to the 2015 cartoon series), with her taking over after issue 0. She will be joining artist Priscilla Toramontano on the book and made the announcement herself via Tumblr
This was actually announced Easter Sunday at Wondercon but the word hasn't gotten around: I'm writing this series after issue #0. My childhood parked in front of Transformers G1 is now justified. I can bring Starscream back from the dead right?
The Brazilian fansite Transformers Dioramas has shared some images from the 32nd ABRIN LAtin American Toy Show where three new photographs of the upcoming Transformers Combiner Wars Devastator was shown off.
ACToys.net have posted some new imaes of the upcoming Transformers Platinum Edition two-pack release of Astrotrain and Blitzwing. The figures appear to be homages to Flywheels and MachTackle (Transformers Victory) and it should be noted that the firing mechanism on Blitwzing's weapons have been removed due to safety regulations.
E-Hobby and the Takara-Tomy Mall have posted new images of the upcoming Transformers Unite (the Japanese name for Combiner Wars) Stunticon team. The figures are slight redecos with Motormaster being more black and Dragstrip having no purple on him
TFW2005 have posted a nice little image gallery of the Combiner Wars Blackjack figure.
TFND have posted an in-hand image gallery of the upcoming Combiner Wars Protobot Rook figure.
TFW2005 reported on the 10th April that Netfliex has the first 14 episodes from Season Three of Transformes Rescue Bots
Singaporean online store SimplyToys has images of the three pack Transformers Platinum Edition Seeker Squadron which contains the latest reissues of G1 Thrust, Dirge and Ramjet
Hasbro Studios have updated their You Tube channel with a promotional video for a new character in Transformers Rescue Bots, Servo the rescue dog.
Brazilian Transformers fansite Transformrs Dioramas has posted more images of the upcoming Transformers Combinerwars Devastator.
HissTank have reports from the 2015 JoeCon which included some more of the upcoming GI-Joe Transformers Crossover toys. The latest offering is "Old Snake" Cobra Commander (based on his appearance in the Transformers Cartoon Only Human) with Stealth Bat (a BAT recolour of Transformers Prime Soundwave)
You can view the images of all of the above figures after the jump.