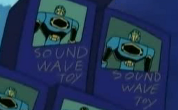 Yesterday was the Hasbro Investor Day conference call where Hasbro present some of their overall plans to would-be investors, press and consumers. The TFW2005 have a summary of some of the Transformers related news including:
Transformers 5 Placeholder Logo Revealed
Transformers 5 Info (company-wise)
Transformers: Micronauts
Kreo: Armour Hero
The full presentation can be viewed and downloaded on Hasbro's website where you can also listen to the audio recording.
It was confirmed during the presentation that Micronauts will indeed be a part of an expanded Transformers mythos as was the concept tht was sold to Hasbro Inc in the mid to late 2000's by AGE when they sold the entire IP for Micronauts to Hasbro Inc rather than just licensing the brand.
The full presentation also suggests that Hasbro will increase their new tooling in general over the next couple of years, though this is not broken down by toyline so it could just be due to the introduction of new brands such as Micronauts and Stretch Armstrong.
The presentation is a follow-up from 2015 Investor Update that was produced during the US Toy Fair (download it here).
Hasbro will also be increasing their work with mobile game studio "Backflip Studio" so expect additional Hasbro Licensed mobile games to be released within 2016.