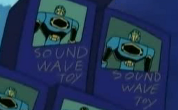 The credit crunch has hit another toy retailer this time in the United States as K.B Toys (one o the biggest toy chains in the US) have filed for Chapter 11 bankruptcy in the
Federal Bankruptcy Court in Delaware listing assets in the range of $100 million to $500 million dollars.
  KB plan to close all of its 460 stores, but are trying to find a buyer for its wholesale distribution unit.  KB employ 10,850 staff with over half o them seasonal workers.  The first dates back to 1922 and previously filed for bankruptcy protection in 2004 but emerged from that in 2005 after selling itself to Prentice Capital Management.