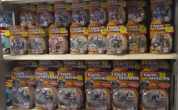 Hold the press Transformers Prime fans. We've had a sighting report of the Wave 2 figures at ASDA
"Please let everyone know to start checking their Asda's. Just picked up RID Ratchet and Arcee from Asda Harrogate for £9.73.
Only one each per case so you will have to be quick i think :D"