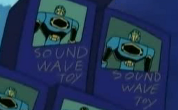 The UK toy market just got slammed by the chairman of the BTHA (British Toy and Hobby Association) Roger Dyson. In an address to visitor's of the association's Industry Day, he pointed to a number of difficulties faced throughout 2008, which led to the UK becoming "The worst performing toy market in the developed world when compared with 2008." Dyson gave a few reasons for the decline

"The administration of Youngsters in April was challenging enough for many of our members, but the reqercussions of the administration of Woolworths have still not subsided and are unlikely to to, at least until 2009 is well past.

"The changing landscape of retail in teh UK is and will continue to be a challenge to our members for some time to come but our industry will as ever change and adapt to what will continue to be an ever changing economic and retail environment." ... "We face a further difficulty, lower turnover leads to lower marketing spend which leads to lower sales, we are in a downward spiral that we need to reverse."

Its not all doom and gloom though as he forcast better things for the future. "
With Toy Fair 2010 almost sold out, the financial forecast for Toy Fair 2010 is excellent, although the association is commited to return 50 per cent of profits to the exhibitors who also support the 2011 Toy Fair.
"