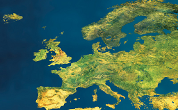 Thanks to Nevermore for letting the other members of the
Trans-Europe-Express
know that Alternator Ravage II is now out in Germany.
In the same article, Nevermore explains the true nature of T-Day:-

Hasbro Germany came up with a special "event" called "T-Day" that's
supposed to bea featured at German toy stores. Well, apparently it's
just a TV screen airing episodes of Cybertron and a dense employee
asking really stupid questions that aren't even particularly well
thought out ("what colors do the Autobots have?"). Also, Alternators
Ravage (Jaguar) is now out in Germany, but despite earlier rumors it's not supposed to be a special edition for "T-Day" but actually a mass retail release.
Thanks also to Quickmix for the
first
reported sighting