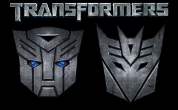 If people thought the UK election resulted in mixed signals it has nothing on the Skids and Muflaps possible appearance in Transformers 3.  First it was reported that they were in, then Michael Bay came out stating that they were not back for the third film, and now leftlanenews.com reports, with imags, that they are back in the third film!
"Sporting "Autobot" center caps on the wheels, these two vehicles were captured doing some pre-production work before principal filming starts in a few weeks. We think you are looking at Skidz (green) and Mudflap (orange).

Skidz is looking much sportier than in Transformers: Revenge of the Fallen, with new front and rear fascias, larger fenders, sportier wheels and a big wing. Mudflap was previously based on the Chevy Traxx concept, but for this installment, it appears both cars will be built off the Chevy Spark.

General Motors will once again be the main vehicle supplier for the latest Transformers movie, so expect to see several other GM-badged vehicles, including a black and yellow Chevy Camaro as Bumblebee."