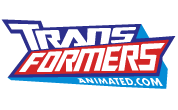 "TF Animated Deluxe Wv 3 09 (Arcee, Soundwave) 2pcs
These items have been split into different waves and are also shipping at later dates per Hasbro(roughly May 2009). Due to this we are currently canceling and we will issue credits on the current pre-orders placed. We will put these items back to the website site as soon as we get new released confirmed information on how these are to be sold. Please let me know if you have any questions. Thank you."
Thats the message the Transformers Collectors Club is sending out to members who have ordered the two Transformers Animated toys.