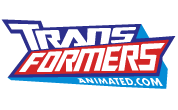 With Auto Assembly 2010 officially starting tomorrow in Birmingham, England some of the guest and attendees have already arrived.  These include Derrick J Wyatt, Jim Sorenson and Bill Forster who's appearance at Europes largest Transformers Convention were funded by this website.
To commerate this event as well as Derrick's recent Birthday, we were proud to present him with a very special gift ... a custom made plush Transformers Animated Swindle!
The figure was specially commissioned for the event and comes complete with detachable weapons and a custom box.
Below you can see some images of the plush that we presented to Derrick along with our own version.  The toy is 10"x7"x4" in size and seemed to be well liked by those who were in attendance.  Hopefully the plush will be on display with Derrick overr thr weekend.