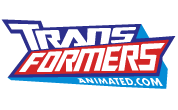 Million Publisher are set to release a new book titled
Transformers Animated Encyclopaedia.
  The book will contain 112 pages and includes a mail order figure of
Transformers Animated "Optimus Prime Elite Guard Version"
.
It looks like the figure will be a repaint of the
Transformers Animated Wingblade Optimus Prime
toy and costs Yen 4900, with an allowed maximum of 2 pieces costing Yen 9200.
You can view the Red Mercury listing of the book
here
.