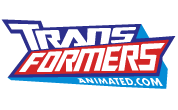 On her website voice actress
Tara Strong
announced that she will be playing the only regular girl character in the next Transformers seires called Sari. Here is what Tara had to say
"Transformers is coming out shortly after the movie release and I predict will be a big hit. I play the only regular girl character, 'Sari.' She's not a Transformer ... just a little girl!"
You can find a list of her credits, which include animation voice acting, computer games as well as live action films, on her website
here
. Personally, we recognise her voice most from Rikku in FInal Fantasy X and X-2
Credit to
Seibertron
for the link.