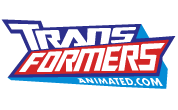 The Transformers Animated cartoon series made its Malaysian debut on Sunday 2nd March at 11am. The show, which is airing weekly, runs on TV3 who have also launched a Transformers Animated themed mini-site.
The TV schedule has been added to the Showtimes page on TransformersAnimated.com, though the episodes are still TBC at this stage.
You can view the promotion video used to advertise the show in the Videos section of the site.
Don't forget that the UK debut of the show is only a few weeks away.