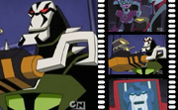 Robert Cullen, founder and Creative Director of Boulder Media, recently joined a panel at Animation Dingle 2017 with Darragh O'Connell of Brown Bag Films, Alex Sherwood of Giant Animation and Niamh Herrity of Pink Kong Studios to discuss service work, I.P., the perks of having a studio in Ireland and the importance of networking.
Mr. Cullen stated "We get free toys which is great. When [Hasbro] approached, they were looking for a studio that could bring great taste and flair to the projects. They basically gave the keys to the world of Transformers. "What would you do for the Transformers? How would you reboot Transformers?" Which is amazing really. It's like every geek's fantasy. I could play around Optimus Prime".
It's expected that he is referring to Transformers: Cyberverse, though the company is also working on Rescue Bots Academy.
He also stated that the team has initiated a full CGI Feature Film project for a Hasbro property, which we learned as a film based on the Transformers Live Action Movie Universe (a.k.a. Movieverse).
You can watch the full panel below