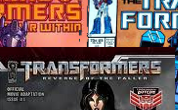 During the IDW Botcon panel the next book from Jim Sorenson and Bill Forster was announced as Legacy: The Box Art of the Transformers. As the name suggests, the book will the box art that was used with the toys, bringing together material from Japan, the US and, with luck, Europe.

Here's Jim to tell you more
"Legacy: The Box Art of The Transformers is going to be something special. I've been working on it for a while now, and I'm really amazingly pleased with how well it is going. We've been working with Hasbro, Part One (the parent company of eHobby), and numerous private collectors to pull together the definitive coffee table book of Transformers packaging art.

A lot of things, like the date and the page count, are still up in the air. However, here's what has already been decided on:
1: The scope will be G1 and G2. No Beast Wars or beyond. We'll be covering every year in the US, as well as the entire Japanese set of releases. It's possible that we might get Europe in too, if we can find the material. That remains to be seen.
2: The extras will be substantial. We're talking essays and interviews with the original artists, modern repaints of vintage artwork (think eHobby exclusives), unused box art, production sketches for box art and more.
3: In terms of scale, we've got more then 300 images in hand, and more than 150 additional pieces pledged. I'd like to get those numbers up, so if you are a collector of the originals, drop me a line!"
You can read more of Jim's thoughts on his blog: http://boltax.blogspot.co.uk/2012/04/transformers-legacy.html