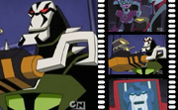 The French TV listings have been updated with episode titles and synopsis for Transformers Robots In Disguise episodes 19 through 21.
#19: The Champion
Groundpounder, former gladiator now Decepticon, escapes and takes part in a televised fight. He will face Grimlock.
#20: Dysfunction
Fixit becomes increasingly buggy. Denny tries to repair him, but it activates his guard program. Armed with an arsenal, he tries to attack the others.
#21: State of Siege
Steeljaw and his band manage to get into the scrap yard to release cryogenically Decepticons and keep the Autobots away using a sonic wave field. Our heroes will have to use cunning to thwart their plan and regain control of the premises.