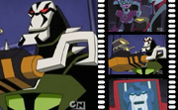 Our series looking at the missing and altered scenes from the Transformers Generation One cartoon series continues with Divide and Conquer. Once again Dan Gilvezan was missing from the recording session(s) that produced the unslugged tape that this audio has been transferred form and, as such, his dialogue was simply skipped. Compared to previous episodes there was less dialogue cut from this episode. You can view the transcript below and can download the full episode script from https://drive.google.com/open?id=0BwBhmf92x_UEelZ1WHVmdm1FLUk thanks to Jim Sorenson and Chris McFeely
TRANSCRIPT:
===========
WALLY BURR: [Session opening]
==== Extended Scene ====
OPTIMUS PRIME: I will shield you!
*NEW* STARSCREAM: His back is turned,
STARSCREAM: Hit him with everything!
*EXTENDED* OPTIMUS PRIME: Aahh! Aaaahh!
*NEW* STARSCREAM: The mighty Optimus Prime is powerless without his weapon!
SKYWARP: Unidentified vehicles approaching.
==== Extended Scene ====
WHEELJACK: I hope so, but not here. Can ya still transform?
OPTIMUS PRIME:I'll... try.
*NEW* PRIME: But my
OPTIMUS PRIME: Power relays... are fused. Mobility limited.
==== Extended Scene ====
SOUNDWAVE: Laserbeak, transform.
*EXTENDED* LAZERBEAK:
MEGATRON: Come to me. Fly to Autobot Headquarters and learn the true condition of Optimus Prime.
LAZERBEAK:[squawk]
SKYWARP: I think Laserbeak's chicken!
MEGATRON: He'll have more to fear if he refuses to obey me!
*NEW* LAZERBEAK: [squawk]
MEGATRON: If Optimus Prime's laser core was in fact extinguished, we shall destroy the accursed Autobots and none shall stand between us and our conquest of the universe.
==== Extended Scene ====
CHIP CHASE: He started some kind of chain reaction inside Optimus Prime!
*EXTENDED* [background wallabase]
WHEELJACK: Get back, everyone! He's going to explode!
*EXTENDED* VARIOUS: [coughs and groans]
SPARKPLUG WITWICKY: Everybody okay?
==== ADDITIONAL Scene ====
IRONHIDE: ... Prime's runnin' out o' time.
*NEW* FATHER: C'mon, you two -- say "cheese"! And say it fast, this is bear country.
*NEW* FATHER: Hey! We didn't bring a camera ...
*NEW* REFLECTOR: No you didn't ... human
*NEW* FATHER: I'd have preferred bears!
*NEW* REFLECTOR: This is the spot. Reflector calling Headquarters. Bring in the hardware.
STARSCREAM: Careful with those cubes, Rumble....
==== Extended Scene ====
RUMBLE: Trash 'em!
BLUESTREAK: Battle time!
*EXTENDED* VARIOUS: [groans]
IRONHIDE: Ohh! Uhh... ohh! Can't see! The flash shorted my optic sensors!
==== Extended Scene ====
IRONHIDE: Acid rain! If it hits our circuits, we're goners! And so is Optimus Prime!
*EXTENDED* IRONHIDE: [Groans]
*MISSING* BUMBLEBEE: We f-failed, Chip... we... f-failed.
*MISSING*BUMBLEBEE: It's all over, Chip... all o-over.
MEGATRON: All over for them.
==== Extended Scene ====
*EXTENDED* VARIOUS: [Decepticons cheering]
==== Extended Scene ====
*EXTENDED* TRAILBREAKER: [GROANS]