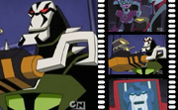 We recently announced, via Twitter, that we have aquired several audio cassettes containing original studio dialogue from both the Sundow Productions cartoons of Transformers and Visionaries as part of our larger Visionaries archive project. Whilst the documents and audio are being sorted, checked and slowly converted to digital format we are please to be able to not only confirm that we have both slugged and unslugged tapes, but that they do include the audio dialogue for the scenes that were removed from the final cartoon episodes.
As such we are please to be able to bring you this short teaser of content from the Generation One episode More than Meets the Eye - Part 1. Within this almost two minute clip you shall hear dialogue from two extended scenes as well as a scene that was completely removed. There is also a little something extra at around the 40 second mark to confirm that these are studio recordings ;)
You can listen to the audio by using the embedded video below. We have includes a transcript of the dialogue underneath the video on this site as well as under the description on the YouTube video.
The missing scene is between Wheeljack and Bumblebee with the first extended dialogue also between the two with the second being Soundwaves.
Transcript
WHEELJACK: Uh-oh. A Decepticon welcoming committee!

*NEW* BUMBLEBEE: Lets crash it!

*NEW* WHEELJACK: [laugh] Good idea! I'll raise my deflector shields

SEEKER #1: Autobots! Stop them!

BUMBLEBEE: Prime told me there'd be days like this!

WHEELJACK: Heh, and you didn't believe him?

BUMBLEBEE: I do now!

WHEELJACK: We've gotta get these energy conductors back to Iacon!

BUMBLEBEE: I'm right behind ya!

WHEELJACK: Mind if I cut in?

*NEW* SEEKER #1: Halt! Stop him! Don't let him pass!

*NEW* SEEKER #1, Thundercracker, Skywarp: Urgh Argh Errgh

[direction]

*NEW* SEEKER #1, Thundercracker, Skywarp: [beat dialogue]

WHEELJACK: Bumblebee! Get in, quick! You all right?

BUMBLEBEE: Yeah. I th... think it's my rear axle.

WHEELJACK: Well, hang on to your crankshaft! I'm shiftin' into overdrive!

THUNDERCRACKER: They've gone underground. We'll never catch 'em now!

SKYWARP: We've gotta report back to Megatron.

WHEELJACK: Wheeljack to Iacon. We're comin' in!


**** Missing Scene Starts ****

*NEW* RATCHET: You'll survive Bumblebee, they just blew away your universal joint

*NEW* BUMBLEBEE: Yeah and my rear axle and my tyres

*NEW* OPTIMUS PRIME: But you made it back safely Bumblebee, good work.

*NEW* BUMBLEBEE: [joyful] thanks Optimus Prime, I'm only sorry we couldn't find mroe energy conductors

*NEW* OPTIMUS PRIME: Maybe Jazz will find some

**** Missing Scene Ends ****

SOUNDWAVE: Laserbeak, prepare for flight. Destination: Iacon. Operation: assimilation.

SOUNDWAVE: Laserbeak, Autobot alert!

*NEW* SOUNDWAVE: Transformation required!

SOUNDWAVE: Disclosure averted. Continue observation.

Here is a copy of our original announcement.
A piece of #Transformers history. Original #Sunbow studio tapes (stubbed and unstubbed) of audio from #GenerationOne. pic.twitter.com/Nqcm1qU4pl

— Transformers Toys (@transformertoys) September 28, 2016