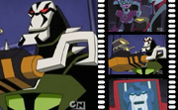 It has been announced that Cartoon Network (Germany) shall be airing Season 3 of Transformers Robots In Disguise (2015) next month (January 2017) airing at 6:40am on both Saturday and Sundays.
Statement from January 2017 Program Highlights Sheet:
Sender premiere neuer Folgen der dritten Staffel immer samstags und sonntags um 06:40 Uhr
Als der cybertronische Gefangenentransporter Alchemor auf der Erde abstürzt, werden gefährliche Decepticons auf freien Fuß gesetzt. Bumblebee soll nach Anweisung vom Optimus Prime ein kleines Team zusammenstellen, um diese erneute Gefahr durch die Decepticons auf der Erde aufzuhalten. Doch die Menschen dürfen keinerlei Verdacht schöpfen.
Credit to TFW2005.com