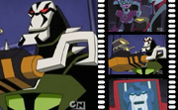 The next video in our series covering the missing dialogue from the Transformers Generation One Sunbow / Marvel Productions cartoon episodes.
This video covers Roll For It. The transcript of the audio is too long for the description so please see the pastebin link below.
Transcript: http://pastebin.com/31QEEUFN
Dan Gilvezan was not present for the studio session where this recording originates from and, as such, his characters dialogues are missing.
You can also find the full script thanks to Jim Sorenson and Chris McFeely over on Google Drive. Full Script: https://drive.google.com/file/d/0BwBhmf92x_UER0t4WlhMdXRUNXc/view
Please note that the script linked to above is an older draft from the one used for this studio session