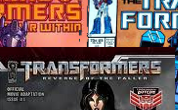 CBR are reporting that Mairghread Scott and David Rodriguez will be writing the next Hasbro Universe cross-over arch called FIRST STRIKE which focuses on Cobra, led by Baron Ironblood, deciding to directly target the Transformers. The artwork shall be provided by Max Dunbar withissues solicited as coming out from September.
IDW Publishing has a new Hasbro crossover on the way, and it doesn't sound like good news for the Transformers.

CBR has the first details on "First Strike," announced Thursday at the Diamond Retailer Summit in Chicago. The story starts with two issues in August, from the writing team of IDW Transformers vet Mairghread Scott & David Rodriguez (Narrative Director at Vicarious Visions, the game company best known for the "Skylanders" franchise) and artist Max Dunbar, recently of IDW's "Micronauts" series.

Following 2016's "Revolution" event — which saw IDW's licensed Hasbro properties united in one shared universe — "First Strike" picks up with Earth about to join the Cybertronian Council of Worlds. That peaceful event is interrupted by Cobra, as Baron Ironblood — historically the British counterpart to Cobra Commander — has targeted all Cybertronians for termination, putting the Transformers in serious jeopardy. The G.I. Joes, led by Scarlett, and the Autobots, led by Optimus Prime, stand in the way in the face of extinction — enlisting help along the way from, apparently, an unlikely ally in the form of Soundwave of the Decepticons.

While this certainly sounds like the comic book equivalent of a blockbuster summer movie, Scott said it's also a "deeply personal character story."

"One man attempts to dominate, one woman stands against him," Scott said in a statement to CBR. "Watch as Scarlett leads her G.I. Joes on a daring mission to save all of Cybertron from their gravest threat yet. 'First Strike' is a fast-paced, hard-hitting, and deeply personal character story set against the backdrop of intergalactic war with all the giant robots, cyborg ninjas, and massive explosions you could ask for."

IDW Publishing Editor-in-Chief David Hedgecock described "First Strike" as the natural progression from what the company started in "Revolution."

"In 'Revolution,' we united our Hasbro comic book titles into one shared universe," Hedgecock said. "In 'First Strike,' we see what it's like to live in the shadows of a massively powerful, ancient, alien race that has been warring with itself for millions of years and, in doing so, has brought death and destruction to every planet it has touched."

"What, if anything, can one man do to save his planet? What depths will he go to in order to save mankind? How do you destroy all the Transformers?"

True to the "Revolution" spirit, it won't just be Transformers and G.I. Joe getting involved in "First Strike" — the M.AS.K. team will also be involved.

"'First Strike' is your childhood toy box exploding onto the [comic] page: the Transformers, G.I. Joe, and M.A.S.K. teams brought together, each of them positioned on different sides of this planet-spanning conflict," Rodriguez said in a statement. "Sometimes the groups will line up along expected party lines, but other times, you'll see them being torn apart from the inside, as they are forced to face the impossible concept of one human man declaring war against Cybertron and then being really good at it."

"First Strike" will run for three months, with six issues planned to ship on a twice-monthly schedule. Tie-ins to the event will be revealed at a later date. Covers for each issue will be illustrated by "Batman/Teenage Mutant Ninja Turtles" artist Freddie E. Williams II, along with multiple variants.