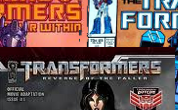 Comic Book Resources have posted an interview with Mairghread Scott and John Barber the creators behind the upcoming Transformers: Combiner Wars crossover. The key points are:
The Combiner Wars will be on two fronts - both an information war, a "war of influence", and a physical war. Starscream is at the heart of all of it, of course - with Optimus, Windblade and Prowl all being key players.
Superion has a few new moves - he's described as a cross between "an NBA star and Godzilla"
The seeds of Combiner Wars have been sown since Windblade first appeared in Dark Cybertron.
On an unrelated note, we'll also be seeing more Transformers of more body types - not only female characters but more diversity in general, more religions, creeds and classes.
Credit to TFW2005.com for the summary