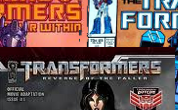 Simon Furman has posted the following update on his blog.
Uh-huh, that's right, it's out this week (29th November) — Transformers Devastation #3. Lots of shocks and surprises to found therein, not least in terms of who's actually drawing the issue. Regular artist EJ Su had to take some time out to become a daddy (aww), so Nick Roche (Spotlight Shockwave) stepped in to cover. And what a damn fine job he does too! Nick takes Ratchet, Verity and Jimmy through some considerably lethal hoops, courtesy of Sixshot, as well as continuing Hot Rod and Wheeljack's run-in with the Headmasters (plus more on the intertwined fate of Hunter and Sunstreaker).
As I've rumbled on about before, this is where everything changes, and what was a secret war goes public in a big, big way. And with various other factions (Reapers, Dead Universe cast, etc) now ready to make their move, it's only going to spiral further out of control. EJ did manage to find time to, um, conceive a cover for the issue.
You can see it by clicking on the thumbnail below. And for more information on all IDW's Transformers releases, check out their site here.