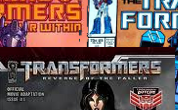 Titan Magazine have updated their MySpace site with the following release and images.

"A new era begins here!

We dive straight into the aftermath of the Transformers Movie with issue 7, with a creepy and action-packed storyline featuring all the surviving Autobots, as well as a whole host of... zombie Decepticons?

Check out these awesome images, which ought to get you drooling for the finished issue, which is on sale 3 January in the UK! The issue also comes with an awesome lenticular notebook!"