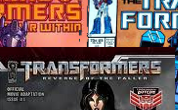 Last year One Shall Stand.com ran a competition to give a lucky Transformers fan the chance to win a years free subscription of Transformers comics. Well they're back again this year with a bigger competition. This time there will be 12 winners, each winning a month's free comics.

To qualify for the draw on New Year's day people will have to buy either TF Devastation 2, or spend £5 on new comics or £3 on back issues during December. Go to
http://www.oneshallstand.com/competition.html
for more details.