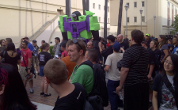 Auto Assembly have issued another press release for the upcoming UK Transformers Convention

14th Guest For Auto Assembly 2011 And Workshops Announced!
26 days to go until fans from across Europe and the rest of the world gather in Birmingham for Auto Assembly 2011, and we're still working hard to make this the biggest and best convention we have ever created. Not satisfied with what we have already go lined up for you, we can now bring you details of our next guest...
Returning once again as our FOURTEENTH guest this year is comic artist Lee Bradley. Lee's work will be familiar to UK fans through his ongoing work for Titan Magazines on their Transformers comic doing interior illustrations, comic strips and their "How To Draw..." series. ­
Lee joins our extensive line up which already includes Gregg Berger, David Kaye, David Wise, Simon Furman, Andrew Wildman, Nick Roche, Geoff Senior, James Roberts, Simon Williams, Liam Shalloo, Kris Carter, Jason Cardy and Kat Nicholson!
Fourteen guests not enough for you? Well, we can now confirm details of this year's FREE Workshops that will be taking place during the convention weekend as well! Spread throughout the weekend will be a series of workshops open to all attendees run by some of our guests! Lee Bradley will be running a "How To Draw..." Workshop on the Sunday for anyone wanting to learn how to draw their favourite Transformer and Kris Carter and Liam Shalloo will be hosting a Colourist Workshop on Saturday. Kat Nicholson will be running a Transformers Animated themed Children's Art Workshop on Sunday and our Kitbash Workshop, a popular part of the programme in 2009, is making a welcome return!!