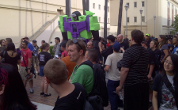 Auto Assembly 2012 Third Party Product Official Statement
Transformers fandom has been buzzing the last few days with discussion about third party products and the fact that they will no longer be available for sale from some events. As with many of our friends at other conventions such as Savcon, Slagacon and Dairycon, we believe that Transformers fans should be able to make an informed choice for themselves over whether or not to purchase unofficial third party products.
We have spent the last seven months looking at our policy in relation to these and while we will still prohibit the sale of some items, we will be adopting a more open approach which we believe will be much fairer on dealers and attendees alike and provide a much more enjoyable convention and a better trading experience for everyone.
For more details, you can read our official statement here in full:-
http://www.autoassembly.org.uk/AA2012/AutoAssembly2012ThirdPartyProductsOfficialStatement.pdf
For more details on Auto Assembly 2012 which is taking place over the weekend of 3rd - 5th August 2012 in Birmingham, England or to book your tickets or find out information about booking dealers tables, visit the website at www.autoassembly.org.uk and for all the latest news on Auto Assembly Europe, visit www.autoassemblyeurope.eu
The Auto Assembly Team
Web: www.autoassembly.org.uk/ www.transformersvideogames.co.uk / www.ct-alpha.com
Auto Assembly Europe: www.autoassemblyeurope.eu
Youtube: www.youtube.com/autoassembly
Twitter: www.twitter.com/auto_assembly
Forum: http://www.autoassembly.org.uk/forum
Email: contact@autoassembly.org.uk
Tel: +44 (0)7860 948296
Auto Assembly is sponsored by
Toyz And Gamez - www.toyzandgamez.co.uk Transformers @ The Moon - www.transformertoys.co.uk TransformersAnimated.com - www.transformersanimated.com TheTransformers.net - www.thetransformers.net Titan Books - www.titanbooks.com 3 Darths Comics - www.3darthscomics.co.uk Science Fiction Collectables - www.sf-collectables.co.uk Big Bad Toy Store - www.bbts.com Xyber Toys - www.xybertoys.com