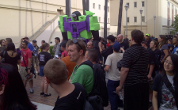 I'm sorry fo report that NTFA have announced that the next Auto Assembly Europe, whihc was planned for November has been put back until 2013. In an update on their website the group posted the following update
"We regret to inform you that we must move the next Auto Assembly Europe to autumn 2013.

Since the convention in November all the members of the organizer team has had to deal with various personal and health concerns, and we simply haven't been able to invest nearly as much effort in the convention as we would have liked and needed.
With six months left until the intended date we feel that maybe we could still pull off presenting a so-so convention this autumn, but we don't want to settle for merely "acceptable" - we want to surpass and go beyond! And by taking a gap year in 2012 and postponing Auto Assembly Europe to autumn 2013 instead, we ensure that we can do just that.

The planning for AAE 2013 starts right away, and with almost 1,5 year to go we should be able to announce a date and venue well in advance of the convention this time.

So that you won't be completely bereft of AAEurope goodness this year, we intend to renew our efforts to put together the Auto Assembly Europe magazine, originally intended as a post-convention magazine but put on ice for quite some time because of the aforementioned health problems. Work on the magazine will resume soon!

Another piece of AAE goodness has also just been sent out to the AAEurope 2011 attendees - those of you who hadn't already reserved a copy from the NTFA Store, will receive a copy of the Free Comic Book Day comic, Transformers Regeneration One #80.5, as a gift from the Auto Assembly Europe committee! The issue should be delivered to all the Swedish attendees today, and to the non-Swedish attendees tomorrow.

We hope to see you in autumn 2013!

- Lars, Martin, Peter and Dennis"