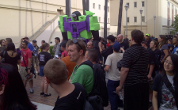 Come and join us for C.O.N.S. IX on 8th of october 2017 in Kolpinghaus/Josefshaus in Viersen-Süchteln in Germany. Many European dealers will be present and offer a huge variety of all kinds of Transformers merchandise. Whether you are looking for an old school G1 fugure or an all new third party collector's item, C.O.N.S. has something for you! Actionfiguren24, Gerrut Camaro, TF Robots, The A Factor Shop, Teletoys and many more of Europe's finest dealers will be present.
Like every year there will be two big raffles with all sorts of fantastic prices.
Our stage program features a live quiz show, our annual cosplay contest, a live review and a live presentation by our special guests John-Paul Bove and Jack Lawrence.
Our friend John-Paul Bove and his fellow IDW colleague Jack Lawrence will be present all day at their own booth where you can go and visit them to have a nice little chat, buy some unique artwork, get your comic book treasures signed or to even pick up one or two new treasures.
C.O.N.S. IX exclusives are free give aways, a sticker sheet from Toyhax.com with faction symbols and a special postcard.
Tickets and all further information are available at our website www.ntf-cons.de or at the entrance booth on the day!
C.O.N.S. IX The Program:
10:30 am - Admittance for the participants of the Cosplay & Contests
11:00 am - General admittance
11:15 am - Official welcome
11:30 am - Cosplayers model show on stage
12:00 pm - Live Quiz Show
12:30 pm - IDW Artists John-Paul Bove & Jack Lawrence Presentation & Interview
02:00 pm - 1st Raffle
03:00 pm - Live Review with Reyjin on stage
04:00 pm - Transformers Quiz sheet turn-in
04:15 pm - End of voting for the Contests
04:45 pm - Announcement of the Contests Winners
05:00 pm - 2nd Raffle & Star Price raffling
06:00 pm - Thank Yous & Goodbyes