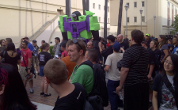 Jim Sorenson has updated his blog, Diciples of Boltax, with the news that he will be working on a new GI Joe Animation model book along with Bill Forster. Transformers fans will know that Jim and Bill released two Transformers Ark books covering the animation art from the original Transformers series and Japanese Transformers series.
Jim has posted the following.
Yo Joe! The time has come for much rejoicing and cavorting. I can now officially announce what many of you have guessed... my next book is going to be an Ark-style book of G.I. Joe animation models, out this summer.

(Nice Snake Eyes model courtesy of a frequent contributor to the model book, Tim Finn of A Real American Book.)
It's going to be pretty spectacular. For some reason I've been able to find WAY more material than I have for Transformers. As the illustration to the right jokingly illustrates, I'm going to be taking a few thousand model sheets and condensing the very best and most interesting of them down into one volume of a few hundred pages. I'm really stoked at my first work in this new and glorious arena. I've come across some amazingly cool rare stuff, plus most of what you'd expect for a book about the Sunbow animation models. I'm still looking for more material, too, so if you're a collector of such things drop me a line. I'm especially interested in material from the movie and the commercials beyond, as well as incidental characters.
So you see, my Roll Out Roll Call appearance is doubly fortuitous! I can show off some early sneak-peaks of the book there. Definitely swing by if you're in the UK.
Now you know the significance of Jim and Bill's appearance at Roll Out Roll Call 2012, and as we all know Knowing is Half the Battle