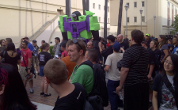 The team at TFNation have announced the fourth guest for TFNation 2016 which takes place in Birmingham UK on August 19th to August 21st 2016.
The latest guest is another Transformers comic artist, and one of the most popular artists in Transformers comic history, Guido Guidi. Guido joins Paul Eiding (voice of G1 Perceptor), John-Paul Bove and Kei Zama in what is an ever growing lineup of great guests. The full press release follows
Transmission_Initiated
TransmissionID: 000009
TFNation_2016
Operation: All Hail Guido
TFNation is delighted to welcome artist extraordinaire Guido Guidi to its inaugural convention!
An exceptionally popular comic artist who has worked with Transformers since the Dreamwave era, Guido has lent his talent to the smash hit All Hail Megatron, the fan-favourite Last Stand of the Wreckers and of course the ongoing books, The Transformers and More Than Meets The Eye.
In addition to his comic work, Guido has also provided artwork for various Transformers DVD covers, box art for toys, trading cards and publications around the world. If you're a fan of Transformers, you have certainly enjoyed his artwork!
Guido has most recently applied his talents to the video game Transformers Devastation, where he provided not only the game's box art, but also served as a concept artist for the game's characters.
Outside of the Transformers franchise, Guido has worked on IDW's Dungeons and Dragons and publications for Marvel, such as the Super Hero Squad books and short stories for Marvel Rampage Magazine.
For a glimpse of his work, take a look at Guido's deviantART page (http://guidoguidi.deviantart.com/).
Guido will be signing autographs and selling artwork from Friday 19th until Sunday 21st August 2016 at the Hilton Birmingham Metropole Hotel at TFNation 2016 – we look forward to seeing you there!
Further transmissions to follow.
TFNation
Where all are one
End_Transmission