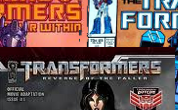 Jim Sorenson has updated the Diciples of Boltax with a news story covering Bill Forsters new tatoo, based on the cover of The Ark II. What makes the story more special is that Bill's session was fimed for the TC show LA Ink and the image was officially approved by Hasbro.
Jim says the following
For those of you who don't remember, Bill posted here about his experiences getting the cover of The Ark II tattooed on his chest... on cable TV. This was actually pretty difficult to set up. You see, in order for LA Ink to be allowed to show a picture of a Transformer on their show, they had to have legal permission from Hasbro to do so. We approached our editors at IDW to see if they could help make it happen. The editors put us in touch with the Hasbro legal team, who were absolutely stellar and made it happen.
Remember that both Jim Sorenson and Bill Forster will be appearing at Roll Out Roll Call 2012 next month.