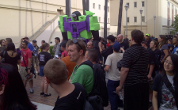 New Auto Assembly Fanzine, CT Alpha Is Released!
That's right at long last Issue Zero of our new fanzine CT Alpha from the creative team behind Auto Assembly's convention magazine The Cybertronian Times, is available as promised this issue is entirely free of charge. 32 pages for the cost of your time.
So what do you get in Issue Zero I hear you ask?  Well kicking off the magazine we have a six page prologue to the ongoing comic story that will be in CT-Alpha – Transformers: Animated Season Four.  Nothing ever stays dead in the Transformers universe, and it's never as simple as waving a magic wand and coming back in this tale courtesy of myself and Ralph Burns.
Other comic strips include – The Story of Drift – Matt Marshall crafts a delightfully skewed look at the most divisive Transformers character in recent years.  Life Goes On – Sam Palmer shows us that while many did lose their lives in the events shown in Last Stand of the Wreckers it is not the end of Impactor's story.  Inheritance from Fox and Jasmine Smith and Malmunis show us an Optimus Prime reflecting back on the life of another. Rounding out the comic content is the delightfully off-kilter Tales From Esoteria by Gav Spence.  He dreams about Transformers and draws it for you!
Fans of good quality text stories we have plenty of good things for you to: A Rock and a Hard Place by Aimee Morgan – Kup's Cygar is the only thing holding him back from falling into the madness that beset him before (Spotlight: Kup), but is it the best possible solution to his problem?  Verity Carlo doesn't seem to think so.  Predatory Instinct sees us look at the legendary hunters of the Great War – The Predacons.  Some legends fade into memory, while others live again as we will see in this tale by Nick Snowden.  Robert Lock gives us Just because you are Paranoid:  A life in the day of Venom – as the new Decepticon head of security conducts interviews for his assistance.   He needs the right sort of personality for the role and he's going to be thorough!    For Survival – David Underwood takes us into the mindscape of Sentinel Prime.  Just why did the one-time leader of the Autobots find himself allied with Megatron?   Finally – Revenge of a Medic by Nicola Piazza.  Ratchet spends far too much of his time patching up Sunstreaker and Sideswipe over the years with their excesses.  Today he gets one back on them.
All wrapped up in a beautiful cover by Guido Guidi (which eagle eyed readers will recognise as the basis for Cybertronian Times Issue 11 in 2010).  This time in it's pristine monochrome glory. Well that's your lot for now.
You want more?  Well okay then, but you'll need to wait.  Check back in two month's time we will have CT-Alpha Issue 1 waiting for you.
As for the price... We've been trumpeting on about the fact that Issue Zero is free, but haven't yet mentioned the series proper. We just want to make it clear that the cover price of CT-Alpha will go entirely towards the costs of running Auto Assembly which is run on a non-profit making basis. The costs of website hosting/traffic are not included in the cover price, so if you buy a copy it's going directly to AA.
If you just want to buy a single issue it will be £1.25 (that includes any issues that are larger than the standard 32 page issue). Initially we will be offering 3 and 6 issue subscriptions. A 3 issue subscription will cost £3.00 and a 6 issue subscription will cost £6.00. A link to the subscriptions will be available in the next 24-48 hours on the CT Alpha website -
http://www.ct-alpha.com
We hope that you'll give this new fanzine a try, maybe become regular subscribers and subscribe to the updates on the website and let us know your views by email or on the CT Alpha section on the Auto Assembly Forum.
If you get the chance, why not pay the newly revamped Auto Assembly website a visit as well. With new support for Facebook, Twitter, RSS feeds, our Youtube Channel and Forum and a much easier to navigate approach, this is an ideal time to visit to get all the latest updates on CT Alpha, Auto Assembly Europe and Auto Assembly 2012.
Auto Assembly Europe 2011 is taking place over the weekend of 12th - 13th November 2011 at the Clarion Hotel Gillet in Uppsala, Sweden and our first confirmed guest is Simon Furman and tickets are on sale from our website now at
www.autoassemblyeurope.eu
Auto Assembly 2012 is taking place over the weekend of 3rd - 5th August 2012 at the Hilton Birmingham Metropole Hotel, Birmingham, England and tickets are available from the website now. For more details on the convention, to see a full list of all the guests and activities taking place over the weekend, or to book your tickets, visit the website at
www.autoassembly.org.uk
The Auto Assembly Team
Assembly 2012 - 3rd - 5th August 2012.
The Hilton Birmingham Metropole Hotel, Birmingham, England
Auto Assembly is sponsored by: