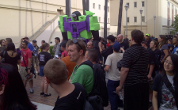 Roll Out Roll Call have revealed, via Faceboo, that Pete Sinclair wil be offering new product revealed regarding both Transformers and G.I.Joe during his Saturday and Sunday panels this weekend in Southampton England!
Saturday, Transformers Collectors' Club Panel at 16:00

Join Pete Sinclair from the Transformers Collectors' Club as he gives you an insight into the Club, offers up NEW PRODUCT REVEALS and discusses the 2016 official Collectors' Convention, BotCon.

Sunday, Transformers & G.I. Joe Collectors' Clubs Q&A Panel at 15:00

Once again join Pete Sinclair from Fun Publications who will field your questions relating to both Collectors' Clubs, with A SPECIAL FIRST LOOK AT UPCOMING ITEMS for the G.I. Collectors' Club.
Does this mean more information about Botcon and Joecon are going to be announced shortly? Just what will be shown? Find out this weekend At RollOutRollCall.