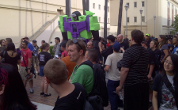 A discussion has broken out on the Facebook page of fellow former Trans-Europe Express group website NTFA (The Nordic TransFans Association) where members of the group have begun discussing organising another Nordic Transformers conventionin association the "new" Auto Assembly team. In the past members of NTFA have worked with Auto Assembly co-founder Simon Plumbe previously to run the only previous Auto Assembly Europe back in November 2011.
It is early days within the discussions, from what has been posted publicly, but it appears that either the NTFA convention or Auto Assembly Europe may well be set for a Summer / Autumn 2016 return. The organisers will be hoping to build upon the 2011 event which holds the attendance record of 55 attendees. The last event was deemed a huge success by the organisers having increased from 23 people who attended the previous years NTFA convention as well as beating the previous Nordic Transformers convention record of 29 which was set in 2007.
We at Transformers At The Moon wish the organisers good luck with the event and should the event take place we shall certainly look at attending ourselves. We've been hoping to attend more of the European shows over recent years and are hoping that 2016 will allow us to visit more of them.
Expect more to follow on this story over the coming weeks and months