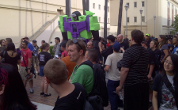 Since neither of us could make it out to this years Botcon we thought that we would post a summary of lins to both Seibertron.com and TFW2005.com's coverage since both US news sites often get "special access" to the show.
Seibertron.com
#BotCon2016 'Dawn of the Predacus' Box Set Images: Tripredacus, Ravage, Tarantulas, plus Terrorsaur
#BotCon2016 Exclusive Souvenirs Images: Megatron, Airazor, Tigatron, Unit-3, Reflector, Custom Class
#BotCon2016 Exclusive Souvenir Bios and Artwork
#Botcon2016 Galleries: Hasbro Floor Display - Warrior Bisk, Warrior Scatterspike, Titans Return, Robots in Disguise and More
#BotCon2016 Hasbro Floor Display: Robots in Disguise Products
#BotCon2016 Titans Return: Powermaster Optimus, Voyager Astrotrain, Wheelie, More
#BotCon2016 Generations Combiner Wars Box Sets: Victorion and G2 Bruticus
#BotCon2016 Generations Alt-Modes, Merchandise and Miscellaneous
#BotCon2016 Confirmation and First Look at Transformers Titans Return Wolfwire and Highbrow
#BotCon2016 Videos: Promotional Clips, Robots in Disguise Windblade, Ratchet, Titans Return Fort Max
TFW2005.com
Botcon 2016 Hasbro Display Platinum and Combiner Wars Images
Botcon 2016 Hasbro Titans Return Display Images – First Glimpses at Wolfwire, Highbrow, Alpha Trion, Getaway Titanmaster & More!
Botcon 2016 Robots in Disguise Display Images – First Looks at Warrior Bisk, Ratchet, Scatterspike & More!
Botcon 2016 – Apparel and Misc Merchandise Display Pics
Botcon 2016 Boxset In-hand Images