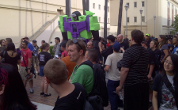 TFCon have announced the dates of their main show (in Toronto) for 2016
Save the dates! TFcon Toronto – The world's largest fan-run Transformers convention will take place July 15th to 17th, 2016. TFcon Toronto will return to the Hilton Mississauga/Meadowvale hotel. Discounted hotel block information and dealer bookings will be available in the near future. We hope you can join us for what is going to be another amazing event.
The teaser picture is of Megatron leading to speculation that they may be trying to get Frank Welker (if their budget can cover the huge cost) and / or David Kaye. Of cause it may also just be a place holder, so we'd rather not speculate.