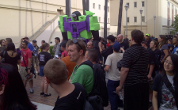 Tickets for TFNation 2018 are now on sale. You can register online via Mobile, Tablet, Laptop or Desktop. There are two payment options available, credit card (via the secure payment gateway Stripe) or Paypal.
If you have a login to the website from previous shows then you can make use of the handy Quick Book buttons which will remember your preferences from previous years.
This year there are additional options when checking out, so you can choose if you want to attend the exclusive Stan Bush concept which takes place on Saturday Night after ClubCon.
We look forward to seeing you all there.