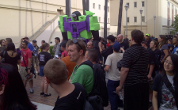 It's been a while since we have posted about TFNation, partly because we've been so busy working on the show, that we thought we would post a quick round-up of recent press releases.
This evening TFNation have announced a new full-length Transformers Animated fan graphic novel will be available at the show called Trial and Error. The story has been written to tie up the Transformers Animated series. You can watch a trailer below.
Yesterday they announced that pre-orders are now open for their official convention T-Shirt which is available for just £15!
On a guest front they have now announced 17 guests for the show, yes 17! The last two have been Geoff Senior and Mark Ryan!
Cosplay Contest Applications are also now open and the first panel was announced as covering the Brave series.
The full schedule for the event is set to be released tonight so keep checking for further updates