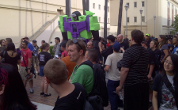 Europe's newest and highligh anticipated Transformers show, TFNation, have announced that they are taking over Sci-Fi mega-chain Forbidden Planet for the month of may with in store campaigns that include take over of the store fronts as well as exclusive bags! The announcement, that can be seen below, includes word that their is an exclusive reveal in-store regarding the show!
They have also launched a Social Media campaign called Operation:Selfie where they are asking everyone to share selfies taken either outside FP stores infront of their posters and/or with one of their exclusive bags by using the hashtags #TFNSelfie and #TFNation.
You can read the original announcement here and can buy tickets to the event today.
Transmission Initiated
Transmission ID: 000025
TFNation_2016
Operation: Forbidden Planet Takeover
For the entire month of May, TFNation is taking over Forbidden Planet stores across the country - and we want YOU to be a part of it!
We will be transforming storefronts in Birmingham, Bristol, London, Cambridge, Coventry, Croydon, Liverpool, Newcastle and Southampton -and we need YOUR help to see it unfold!
To highlight how strong this community is, we are initiating Operation:Selfie. We want to see your pictures in front of our giant store displays and with our limited edition FP carrier bags. Please upload your selfies to social media sites using the hashtags#TFNselfie and #TFNation to join in the fun!
As a thank you to those of you willing to take up the challenge... look carefully, and you might just spot an exclusive reveal in store windows.
More announcements coming soon as things get serious during TFN:May-hem!
Further transmissions to follow.
TFNation
Where All Are One
End_transmission