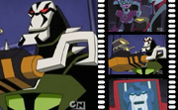 Roll Out Roll Call 2012 guest Jim Sorenson has recently updated his blog The Diciples of Boltax with the transforamtion sequence of Lander from Transformers Masterforce.
Welcome back, true believers! Another edition of The Ark Addendum, extra model sheets not in The Complete Ark, my 416 page tome of Transformers character models.

This week's offering is another transformation sequence from Masterforce. I give you: Lander! I find the last picture in the sequence especially nice, what with the clouds and the mountains. For a pretty simple toy, he they sure make his Transform seem dynamic.