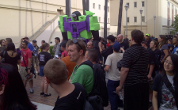 Two more LA-based guests announced for Roll Out / Roll Call 2012!

We're 16 weeks away from Europe's largest combined G.I-Joe / Action ­Force and Transformers show Roll Out / Roll Call 2012 and it is with great pleasure that Transformers At The Moon can exclusively reveal the names of two more guests for the show.

The pair are long time fans of both Transformers and G.I-Joe / Action Force and will be making only their second appearance at a European Convention. They are well known within the fan communities of both franchises as well as generally being two of the nicest and most interesting people you could meet. Have you guest who they are yet?

That's right, the guests are none other than Jim Sorenson andd Bill Forster, writers of the both the Allspark Almanac books, the Ark Books (all three of them) and most recently Allspark Almanac Addendum (published within issue 6 of the Timelines comic that re-printed The Stunti-con Job). Jim and Bill will be on hand all weekend to meet, great, sign, and generally hang out with fans of both shows as well as taking to the stage over the weekend to give a presentation and take question on both Transformers and G.I-Joe.
Jim and Bill were extremely popular guests when we bought them over for Auto Assembly 2010 and we have been keen on bringing them back to the UK for another show. At the same time they are both as keen, if not more so, to come back to the UK and meet up with everyone again and so brings us all great pleasure to have them back on these shores for a show that covers not just Transformers but also G.I-Joe, a series that both these men care about.
So if you were unsure whether to attend Roll Out Roll Call 2012 in Southampton next March, then I hope that this announcement will convince you to attend the event and support it.
Roll Out / Roll Call 2012
is the UK Fan Show Convention dedicated to Transformers, Action Force & GI Joe which will be taking place over the weekend of the 10th-11th March 2012 at Southampton's largest hotel, Jurys Inn overlooking East Park. It will be the third show for the event and is organised primarily by Dave Tree of All The Cool Stuff. Everyone helping out organise and promote the event is very proud to welcome some very special guests from the world of Transformers, Action Force & GI-Joe including Larry Hama (1st UK show), Simon Furman, Andrew Wildman, Robert Atkins (1st UK show), Jon Goode (1st UK show), Jim Sorenson and Bill Forster. There are still at least three special guests to be announced, so stay tuned to the websites at the bottom of this announcement for all the latest news.
There will also be special presentations and panels on the toys, comics and cartoons from special guest presenters, plus in addition there will be show exclusives and trading affiliates, who will be attending the show with a host of the latest, and in some cases, unique range of merchandise.
Tickets will be on limited availability, so please book in advance to avoid disappointment. Tickets will go on sale soon.
RollOut Roll Call 2012
10th - 11th March 2012
Jurys Inn, Southampton

Twitter: @rolloutrollcall
Facebook: All The Cool Stuff­
Website: AllTheCoolStuff

Sponsors / News Network
Transformers At The Moon - www.transformertoys.co.uk
Blood For The Baron - www.bloodforthebaron.com
What's On JOE Mind - whatsonjoemind.podbean.com
Full Metal Hero - www.fullmetalhero.com
­The Nerdsphere - thenerdsphere.blogspot.com/

Pics from previous events can be found on the facebook pages:

Roll Call: Roll Call Action Force/ GI Joe Collectors Event | Facebook
Roll Out:Roll Out, Transformers Day | Facebook
Roll Out Roll Call 2 Roll Out/ Roll Call 2 The Transformer/ Action Force/ GI Joe Show | Facebook
­
Each show has got bigger and better and we hope many of you will be able to join us for the next one in March 2012.