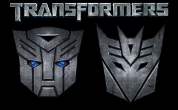 The Paramount Japan website has been updated with more details on the Japanese DVD release of the live action Transformers movie.
The Transformers Movie will be released in hour different version in Japan. They are :-
1. The regular DVD release - 2 disc collectors set priced at 4,179 yen
2. The Optimus Prime Transforming DVD boxset, limited to 10,000 and priced at 5,670 yen
3. The HD-DVD two disc version, priced at 4,935 yen.
4. A, "to be specified" Special Edition set
By pre-ordering the DVDs, you will receive a Japanese exclusive recolour of the Spychanger Scourge figure into Transformers Movie Optimus Prime, whilst stocks last.
Thanks to Snakas for the link.