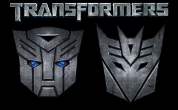 To start the day here is a round-up of some recent interviews which were held with Mark Wahlberg where he makes reference to the fourth Transformers movie.
Metro News Canada interviewed him regarding "2 Guns" and "Transformers 4".
Of course he was tight-lipped but said that he is playing "a single dad who's trying to raise a very attractive teenage girl in the real world."

Also he mentioned his daily routine while filming:
"I don't go out at night anymore, so that makes it a lot easier. I go home, I'll eat dinner, I'll read the script and prepare for the next day's work, and go to bed right away. I'll wake up with a little bit of time to say my prayers, read my prayer book, maybe do a little workout, and then get back at it. And then steal a cat nap whenever I can during the work day — but ('Transformers' director) Michael (Bay), once he starts working, he doesn't like to stop."
Following on from that interview MTV also interviewed the actor and asked specifically regarding any Dinobots would be involved within the movie.
When asked whether there would be any Dinobots on Transformers 4 the actor replied "None of your business. You don't want me to get replaced halfway through production for divulging secrets".

Mr. Wahlberg mentioned that the new installment feels unlike anything that has come before it, thanks in part to the character he has taken on. "It feels like a completely different movie, very fresh," he said. "Obviously, it's a really interesting dynamic, being a young, single dad having a teenage daughter, trying to succeed as an inventor, having very little means and also trying to provide for my family. Then all hell breaks loose."
Finally ComicBook.com are reporting that after Mark Wahlberg's children visited the set in Detroit, the actor asked Michael Bay if his kids could be in the movie. After a quick and impromptu audition, Michael Bay agreed.